Books in the IAHS Library
Have you tried Google books?
Contemporary nursing knowledge: Analysis and evaluation of nursing models and theories
Lists the nursing process format for each conceptual model and theory and discusses how it is actually used in practice.
Conceptual models of nursing: Analysis and application
Covers the development and evaluation of the theoretical base for advanced nursing practice, research and education. Discusses a broad range of nursing models and their roles in nursing practice.
Taber's cyclopedic medical dictionary
Appendix N1: Conceptual Models and Theories of Nursing
Theorists: Florence Nightingale; Virginia Henderson; Dorothy Johnson; Imogene King; Myra Levine; Betty Neuman; Dorothea Orem; Martha Rogers; Callista Roy; Erickson, Tomlin & Swain; Madeleine Leininger; Margaret Newman; Ida Jean Orlando; Rosemarie Parse; Nola Pender; Hildegard Peplau; Reva Rubin; Jean Watson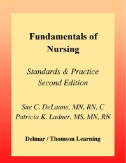 Fundamentals of nursing: Standards & practice
Chapter 2: Theoretical foundations of nursing.
This chapter describes selected nursing theories.
Kozier & Erb's fundamentals of nursing
Chapter 3: Nursing theories and conceptual frameworks.
Provides an overview of selected theories.
More books on Nursing Theory:
Understanding the work of nurse theorists: A creative beginning
Chapter for each theory/theorist.
Florence Nightingale; Virginia Henderson; Ernestine Wiedenbach; Jean Watson; Myra Levine; Betty Neuman; Sister Callista Roy, Dorothea Orem; Madeleine Leininger; Ida Jean Orlando-Pelletier; Katharine Kolcaba; Nola Pender; Hildegard Peplau; Imogene King; Patricia Benner; Martha Rogers; Margaret Newman; Rosemarie Rizzo Parse